Manchester Red Flag Walks:
Saturday 18 August, 11am. "Votes for Women": How women won the vote.
Meet at the Friends Meeting House, Mount Street.
Manchester played a key in the campaign for "Votes for Women" from 1868-1918. On this walk we will encounter  the leading  figures of  the suffragist and suffragette  movement,  including Lydia Becker, Teresa Billington,  Eva Gore-Booth, Esther Roper, Mrs Despard, Nellie Keenan, Annie Kenney, Dora Marsden, Hannah Mitchell and the Pankhurst family.
Tuesday 21 August, 7pm. Radical Ashton-under-Lyne.
Meet on the steps of Ashton-under-Lyne Town Hall, Market Square.
This walk will explore a number of episodes in Ashton-under-Lyne's radical past,  including the political career of socialist and suffragette Hannah Mitchell,  the Chartist Rising of 1848, the  Bread Riot of 1863, the Anti-Irish Riot of 1868 and  the formation of the Co-operative movement.
Saturday 25  August, 11am.  Aspects of Manchester's Black History
Meet at the entrance to Manchester Cathedral
This walk will explore a number of aspects of Manchester's black history including the campaign for the abolition of slavery, Frederick Douglass' time in Manchester, the American Civil War,  the life of Len Johnson – boxer and Communist and the Pan African Congress of 1945.
The walks will be led by Michael  Herbert who has been researching, writing and speaking about Manchester and Salford's radical history for many years. He is a Trustee of the Working Class Movement Library and author of a number of books.
Advance booking for the walks is strongly recommended as a limited number of places are available. Please email: redflagwalks@gmail.com.
Further information: http://redflagwalks.wordpress.com
Thursday 23rd August
Saturday 25th and Sunday 26th August
From Saturday 25th to Sunday 26th August, Fat Out Fest, the Salford based, DIY festival, returns to Islington Mill for its second year, with an electrifying line-up set to blast away the other summer festivals.
Weekend tickets cost £25 and give full access to two days of more than thirty ear-bending and diverse bands, a market space filled with stalls of artists and independent record labels, local artwork, face-painting, fancy dress, delicious grub and, ultimately, a teeth-shattering two-day party in the enchanting setting of the old mill building in Salford.
Highlights for the Saturday include Norwegian pulverisers Arabrot, the avant-metal usurpers Talons, the hotly tipped Queer'd Science and newly reformed Manchester D-beat legends Hammers.
Sunday offers an exclusive solo performance from the Queen of Siam Lydia Lunch, autumnal-folk hero Alexander Tucker, ex-This Heat/Camberwell Now innovator Charles Hayward and the inaugural live performance from occultist electronic group Young Hunting.
Emma Thompson, who founded Fat Out in 2007, said: "We are really excited to be back for a second year with an even more varied and experimental programme. As we grow with our regular gig nights and festivals we hope to provide increasing opportunities for people to make a living from their art, to be able to employ stronger environmental policies and to continue to put on unforgettable parties!"
Fat Out Fest is set to be the fattest and loudest little festival this summer – Don't miss out!
For up to date information and full line up, please visit: http://www.fatout.co.uk
Saturday 25th, Sunday 26th August and Monday 27th August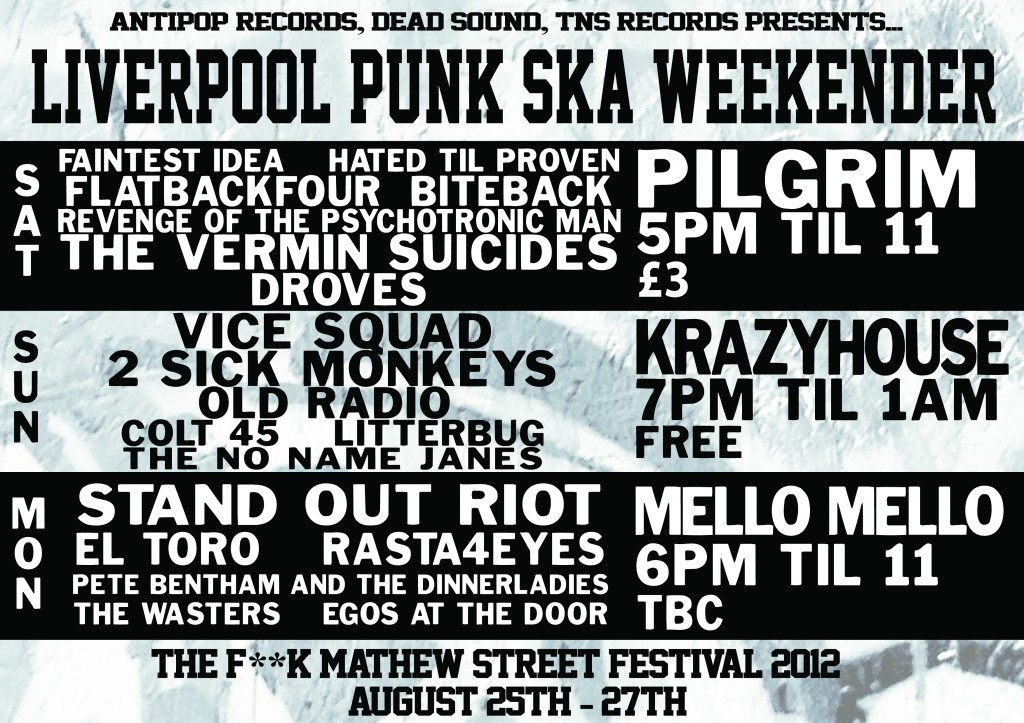 Sunday 26th August
Thursday 30th August
Film showing on the International Day of the Victims of Enforced Disappearances
The Echo of the Pain of the Many, a documentary by Ana Lucía Cuevas
The Echo of Pain of the Many is a moving, thought-provoking and rare documentary by a Latin American woman, recording her return from exile and into the still dangerous and volatile political environment of contemporary Guatemala, where over the course of four years, writer-director Ana Lucia Cuevas discovers, through the archived records of the perpetrators of the crimes themselves, the involvement of her own government and foreign Intelligence Services in the abduction, torture and murders of her brother and his young family.
Afterwards: Q&A session with the director
Doors open 7:30pm, Film starts at 8:00pm
Cold Food, Snacks and Drinks available during the event
Entrance Free
111 Oxford Road, Manchester M1 7DU, http://eighth-day.co.uk/contact/
A Collaboration of On the Eighth Day Café and Manchester Zapatista Solidarity Group
Saturday 1st September
Friday September 7th
Vice Squad and Sanity Clause
Yorkshire House, Lancaster
£6 Advance/ £8 Door
Saturday 8th September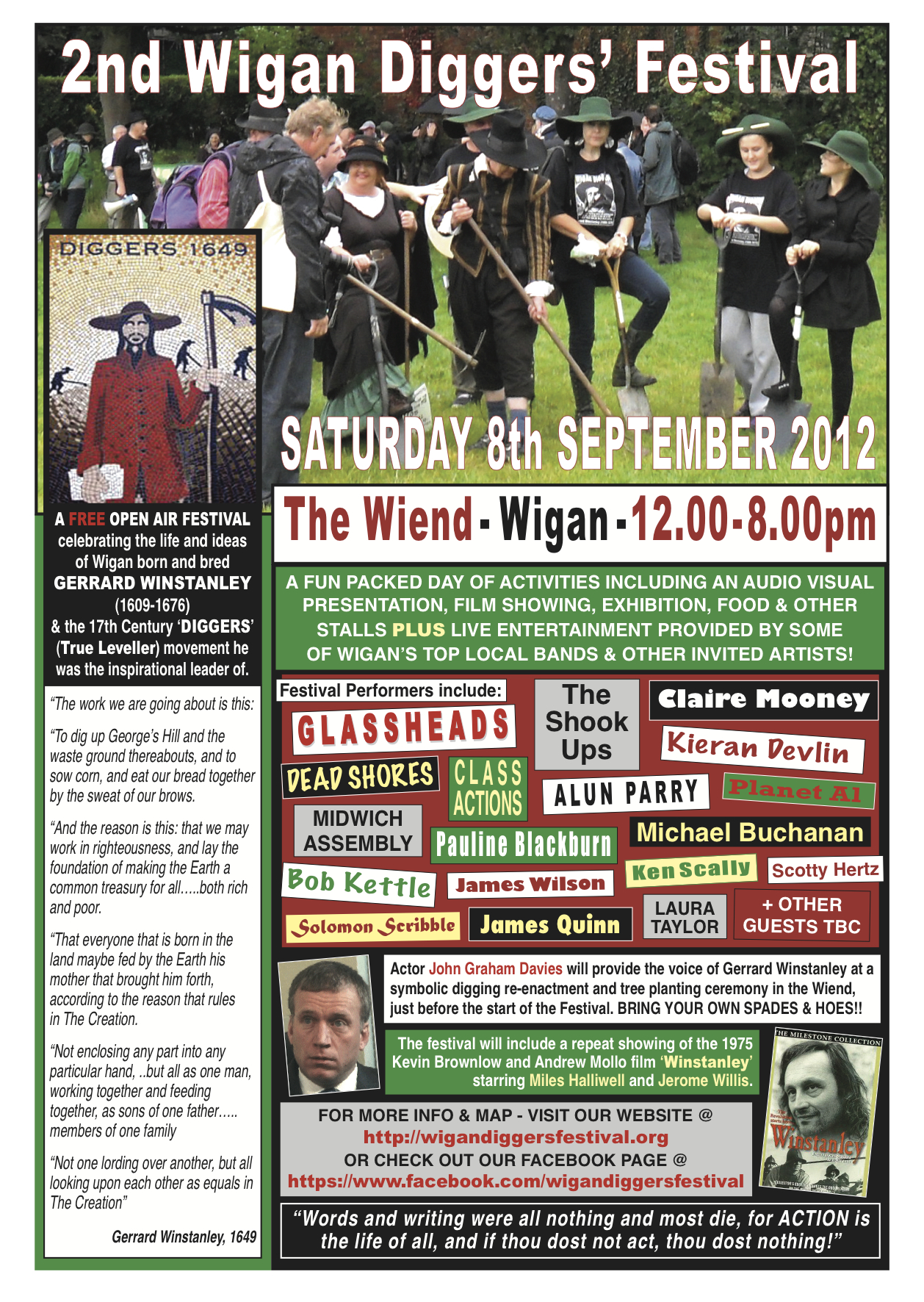 Thursday 13th September
Bang Said The Gun: Manchester
Stand up poetry for those who don't like poetry (especially the stuff about thwarted love and daffodils…)
Each week we have a different special guest head-liner poet and on Thursday 13th September our head-liner will be the awe-inspiring… Mike Garry!
7.30pm til 10.30pm
Old Nags Head, Jacksons Row, (off Deansgate), Manchester, M2 5WD
£5 / £3 concessions (concessions = anyone skint)
Saturday 15th September 
TNSrecords Punk & Ska All-dayer LONDON:
We are breaking away from Manchester and heading south to bring the TNSrecords all-dayer to London on the 15th September.

There will be 10 bands delivering a mixture of Punk & Ska, featuring TNS bands and some of our other favourites.

Comfirmed so far are: Faintest Idea, Revenge of the Psychotronic Man, Stand Out Riot, Hated Til Proven, the Kirkz and Only Strangers. More to be announced soon.

Tickets will be £6 adv, £7 before 3 and £8 after. The Grosvenor Stockwell, London, SW9 0TP

****We are looking at putting on a coach from Manchester. If you are interested please get in touch, we will only be able to do it if we can fill it. It leave Manchester around 8/9am with a pick up in Stoke and returning after the gig.****

Check out the facebook EVENT for all the latest info.
Saturday 22nd September
Sunday 4th November
Saturday 1st December
Manchester & Salford Anarchist Bookfair
People's History Museum
http://www.bookfair.org.uk 
Finally:
Great list of punk gigs in Manchester at:
http://www.facebook.com/punkmanchester?sk=events 
Any what's ons?