Friday 7th and Saturday 8th September
http://www.facebook.com/events/339501922734991/
Friday September 7th
Vice Squad and Sanity Clause
Yorkshire House, Lancaster
£6 Advance/ £8 Door
Saturday 8th September
A Walk around Radical Salford
11am Meeting point : Black Lion public house, 63-65 Chapel Street, Salford M3 5BZ.
This walk will explore Salford's rich radical history include the Flat Iron Market, the General Strike of 1842, vegetarian Christians, Salford's first birth control clinic, Votes for Women and the disturbances in Bexley Square in 1931.
This will be a circular walk. It has been organised in association with the Black Lion, a great pub which has many artistic and cultural events. You can even have breakfast there.
Fees £6/£5
The walks will last 2 hours. Advance booking is strongly recommended as places on the walks are limited. Please email: redflagwalks@gmail.com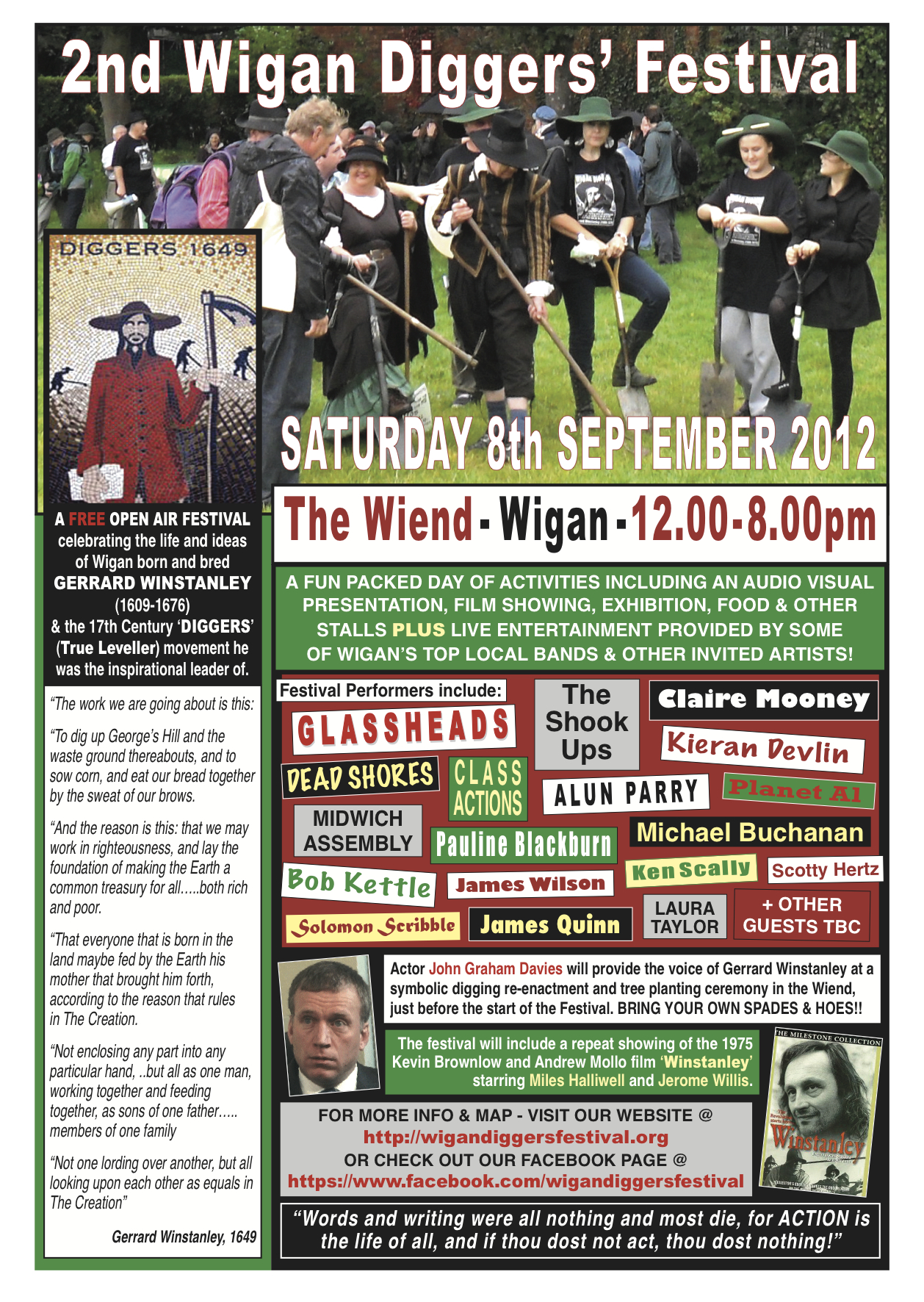 Tuesday 11th September
Manchester Film Co-op and Manchester Zapatista Solidarity Group invite to a showing of Patricio Guzman's award winning documentary Salvador Allende, followed by a debate on 'ethics and politics', from below and from the Left, 42 years after the first state-run implementation of neoliberal ideology.
The military coup against the Popular Unity government in Chile initiated General Pinochet's long reign of terror, and it was also one of the first take-overs of state power by governments that then implemented neoliberal policies. It did take a coup and a reign of terror to stop Salvador Allende's grassroots-orientated politics of democratic socialism. Allende's Popular Unity brought together the diverse forces from the Chilean Left in the joined effort to build a society where justice, democracy and freedom formed part of the experience of everyone, not only a few.
Filmmaker Patricio Guzman, director of The Battle of Chile and Nostalgia for the Light, portrays the life, times and political formation of Salvador Allende who ran unsuccessfully for President three times before finally being elected in 1970. The film focuses on the long – and successful – struggle to unite the Chilean Left, and on the three years following Allende's election, when his government nationalized large-scale industries and began an agrarian reform program. Allende argued for an international framework to control the growing power of multinational companies.
7.45pm, On The Eighth Day Café.
Admission is free.
Thursday 13th September
Bang Said The Gun: Manchester
Stand up poetry for those who don't like poetry (especially the stuff about thwarted love and daffodils…)
Each week we have a different special guest head-liner poet and on Thursday 13th September our head-liner will be the awe-inspiring… Mike Garry!
7.30pm til 10.30pm
Old Nags Head, Jacksons Row, (off Deansgate), Manchester, M2 5WD
£5 / £3 concessions (concessions = anyone skint)
Saturday 15th September 
TNSrecords Punk & Ska All-dayer LONDON:
We are breaking away from Manchester and heading south to bring the TNSrecords all-dayer to London on the 15th September.

There will be 10 bands delivering a mixture of Punk & Ska, featuring TNS bands and some of our other favourites.

Comfirmed so far are: Faintest Idea, Revenge of the Psychotronic Man, Stand Out Riot, Hated Til Proven, the Kirkz and Only Strangers. More to be announced soon.

Tickets will be £6 adv, £7 before 3 and £8 after. The Grosvenor Stockwell, London, SW9 0TP

****We are looking at putting on a coach from Manchester. If you are interested please get in touch, we will only be able to do it if we can fill it. It leave Manchester around 8/9am with a pick up in Stoke and returning after the gig.****

Check out the facebook EVENT for all the latest info.
Manchester's Trade Union History
11am Meeting point: Manchester Mechanics Institute, Major Street, Manchester M1 6DD
As the world's first great industrial city, Manchester was one of the birthplaces of the trade union movement. This walk will visits sites connected with a number of key events including the foundation of the TUC in 1868, the 1913 Dublin lockout, the General Strike in 1926, the rise of women's trade unionism and the 1842 mill-workers strike.
Fees £6/£5
The walks will last 2 hours. Advance booking is strongly recommended as places on the walks are limited. Please email: redflagwalks@gmail.com
Thursday 20th September
Saturday 22nd September
Saturday 29 September
Radical Manchester: the Northern Quarter and Ancoats
3pm. Meeting point: outside Nexus Art Cafe, Dale Street (opposite Vinyl Exchange), Manchester, M1 1JW
This walk will explore sites in the Northern and Ancoats connected with Manchester's radical past, including Chartism, trade unionism, the Spanish Civil War and the Suffragettes.
Fees £6/£5
The walks will last 2 hours. Advance booking is strongly recommended as places on the walks are limited. Please email: redflagwalks@gmail.com
Wednesday 3rd October
Friday 5th October
Saturday 6th October
Sunday 4th November
Saturday 1st December
Manchester & Salford Anarchist Bookfair
People's History Museum
http://www.bookfair.org.uk 
Finally:
Great list of punk gigs in Manchester at:
http://www.facebook.com/punkmanchester?sk=events 
Any what's ons?