Saturday 26th November
A complete screening of "The House That Jack Built" by Shelagh Delaney
Shelagh Delaney grew up in Salford and came to fame in the late 1950s with her play A Taste of Honey, staged by Joan Littlewood, and later filmed by Tony Richardson. Her work for television has often been overlooked.
The House That Jack Built was broadcast by the BBC in the summer of 1977 and has never been repeated or released on DVD. The six 30 minute plays tell the story of the marriage of Jack (played by Duggie Brown) and Lou (played by Sharon Duce) over ten years. The Mary Quaile Club is showing this series by special arrangement with the British Film Institute.
In an interview Shelagh said of the drama, "Well I suppose they lose their innocence. That's what the play is really about. They learn they've got to put up with things they don't really want to put up with…certain aspects of each other. Jack's head is full of ideas. He's a poet. They are building something physical and emotional and sometime something collapses and they build it up again. They are concerned with timeless things like money food and sex. Jack and Lu are both very sexy. They enjoy sex. But there isn't a bedroom scene in the plays. The audience expects explicit sex, but it's more potent when it isn't explicit."
Nancy Banks Smith wrote in her review in The Guardian, "It had one of the finest openings since Damn said The Duchess. Enter the bride spectacularly drunk. As Jack the groom described it diplomatically 'You danced every dance, you told a couple of jokes and when you'd had enough you fell down.' This turned the traditional wedding night on its head with bride vowing – over and above love and honour – total future abstinence…I quite see that all this may wrinkle the nose of the more fastidious among us, but don't read what I say, do what I do. Watch it.."
The House That Jack Built is being shown in two halves of 90 minutes each with an intermission for refreshments. Entrance is £5 (£4 for members of Equity, Musicians' Union and the Writers Guild).
Advance booking is strongly recommended for this one-off event as seating is limited. Please email: maryquaileclub@gmail.com
This screening has been sponsored by Gill and Trevor Griffiths.
Saturday 26th November, 12.30pm to 4.30pm
Venue : Three Minute Theatre, Afflecks Arcade, 35-39 Oldham Street, Manchester, M1 1JG.
Radical Space is the Place: night culture panel discussion
Panel Discussion – "RADICAL SPACE IS THE PLACE"
Chair: DAVE HASLAM (ex-Hacienda DJ, author of Life After Dark: A History of British Nightclubs and Music Venues)
Panellists:
Andy Abbott (Musician/Artist – That Fucking Tank, M@BU, Recon)
Flick Henson (Disability Rights Campaigner, poet & graphic designer)
Greg Thorpe (DJ – Drunk At Vogue and founder of A Queer Revue!)
Marcus Clarke (Writer/Musician – Noisey, Destroy All Monsters, Partisan Collective)
Sarah Statham (Musician/Label Boss – CHUNK, Esper Scout, Living Body, Bomb The Twist)
We discuss the subcultural roots of night life culture and what is happening to night-life in Manchester and the UK in the context of austerity, growing gentrification and dispossession. We ask what does it take for a space to be truly accessible? How can nightlife be truly radical? How can we resist commercialisation and reclaim progressive cultures of the night?
Entry is FREE but places are limited so please register: https://www.eventbrite.co.uk/e/radical-space-is-the-place-panel-discussion-tickets-29028634427
7 PM – 9 PM, Texture MCR, 67 Lever Street, M1 1FL Manchester, United Kingdom
https://www.facebook.com/events/201956626896537/
Followed by…
Partisan Collective Present Residence: MEAT FREE / ARTHOUSE / ELEVATOR
Residence brings together residents from some of the best underground music nights in Manchester.
This sessions brings you:
Lucy (MEAT FREE DJS);
Moid, Jagger and the Bat (Arthouse);
Tom Gillespie (Elevator)
House and techno all night long.
We are raising money for a permanent space for Partisan. Learn more and donate here: http://www.spacehive.com/partisancollective
Tickets: FREE to members, £5 to others, £2 unwaged
To become a member simply donate to our Crowdfunder. Membership gets you a range of other benefits (as well as supporting Partisan).
PLEASE NOTE: This is not an accessible space. We want to offer a full apology for this situation. We initially booked an accessible space, which fell through and then booked this venue on the understanding that it was accessible. We have tried to move the event, but cannot find an accessible space that is available.
Partisan are committed to holding events in accessible venues and all future fundraisers will be in fully accessible venues. We recognise that this is a serious problem in the night time economy in Manchester. Partisan, once established, will be fully accessible.
9.00pm-3.00am at The Old Abbey Taphouse, Guildhall Close, M15 6SY
https://www.facebook.com/events/161571934311348/
https://www.facebook.com/events/197778857297969/
Levellers Levelling The Land 25th Anniversary Gig
Manchester Academy, SOLD OUT!
Monday 28th November
Manchester Punk Festival Present: A Fat Wreck Film Documentary
7.30pm at Soup Kitchen, 31-33 Spear Street, Northern Quarter, M1 1DF SOLD OUT!
Saturday 3rd December
"We are the Lions" Looking Back at the Grunwick Strike 1976-1978.
Forty years ago in August 1976 six workers walked out of Grunwick Film Processing Laboratory in Willesden, thereby igniting an historic two-year dispute. They were soon joined by most of the workforce.
As the first workers left the factory, one – Jayaben Desai – offered a parting shot to the management: "What you are running here is not a factory, it is a zoo. But in a zoo there are many types of animals. Some are monkeys who dance on your fingertips, others are lions who can bite your head off. We are the lions, Mr Manager."
Thousands of trade unionists from around the country, including miners, came to the aid of the mostly female Asian work force, and it became one of the most bitterly fought trade union battles of the 1970s. On the picket lines police assaulted and arrested hundreds of trade unionists.
At this event we will be screening a 60 minute documentary The Great Grunwick Strike, made in 2008 by Chris Thomas for Brent Trades Council. This tells the story of the strike, and includes interview with the strikers and their supporters.
Our speakers at this event will be
Sujata Aurora, Chair of the Grunwick 40 Steering Group, an alliance of Brent-based trade unionists and community campaigners formed to mark the 40th anniversary of the Grunwick strike. She has been active in anti-racist and solidarity movements for three decades
Lisa Turnbull from the Durham Teaching Assistants, a group of mainly women workers who are facing huge wage cuts imposed by Labour-controlled Durham County Council and have voted overwhelmingly to strike.
This event has been organised in conjunction with the Manchester and Salford branch of the National Union of Journalists and Manchester Trades Union Council.
Tea and cakes will be served at the end. Entrance is free with ac ollection to defray expenses.
Guidance on how to find the Working Class Movement Library can be found here.
Seating is limited in the Annexe so to be sure of a seat at this event please book in advance: maryquaileclub@gmail.com
1pm-3pm, Annexe at the Working Class Movement Library, 51 Crescent, Salford M5 4WX
Thursday 8th December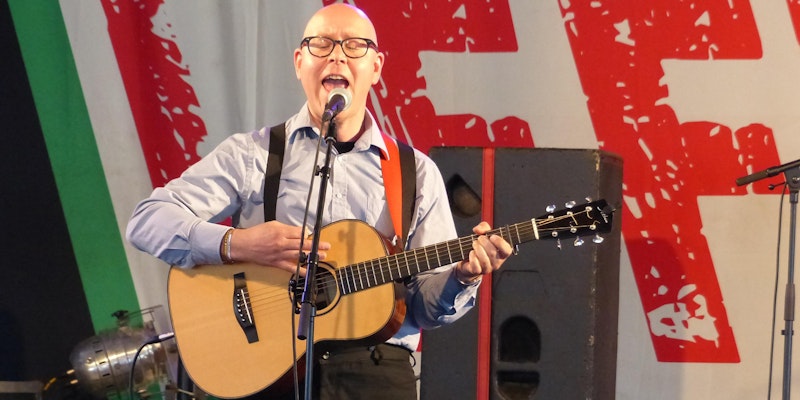 An Evening with Quiet Loner
6.00pm-8.00pm, People's History Museum, Left Bank, Manchester, M3 3ER
Free but register at:
https://www.eventbrite.co.uk/e/an-evening-with-quiet-loner-tickets-27413386176
Saturday 10th December
https://www.facebook.com/events/1267910779919788/
After Party at Islington Mill with the Autonomads, Attempts, Holiday, Coproach and Lab Rats.
7.45PM £5 on the door
https://www.facebook.com/events/860832837365272
Sunday 11th December
https://www.facebook.com/events/1750669961852437/
Anything we should include? Drop us a line at radio@underthepavement.org