Red Flag Walks
Red Flag Walks
Taking history on to the streets
Programme for May 2013
Saturday 18 May, 10.45am The Story of Peterloo
Meeting point: Friends Meeting House, Mount Street
On 16 August 1819 an unarmed, peaceful crowd, gathered in the centre of Manchester to demand political rights, was attacked by the military, resulting in many deaths and injuries. This walk will explore the political background and trace the events on the day. £6/£5
Sunday 26 May, 2pm, Radical Ashton-under-Lyne
Meeting point: Ashton-under-Lyne Town Hall
This walk will explore a number of episodes in Ashton-under-Lyne's radical history, including the political career of socialist and suffragette Hannah Mitchell, the Chartist Rising of 1848, the Bread Riot of 1863, the Anti-Irish Riot of 1868 and the formation of the Co-operative movement. £6/£5
Friday 31 May 10.45am Dr Marx and Mr Engels
Meeting point: front entrance, Oxford Road station
The wrings of Kark Marx and Frederick Engels on philosophy, history and politics had a major influence on C19th and C20th thought. Engels lived in Manchester for 20 years, whilst his friend Marx was a regular visitor to the city. This walk will visit sites associated with both men, including Little Ireland, the Owenite Hall of Science, the Royal Exchange and Chethams Library. We will also discover the truth about Engels' secret life! £6/5.
Advance booking recommended : redflagwalks@gmail.com.
More information: http:redflagwalks.wordpress.com
The walks will be led by Michael Herbert who has been researching, writing and speaking about Manchester's radical history for many years. His published work includes Never Counted Out!, a biography of Len Johnson, the Manchester boxer and Communist. His latest book "Up Then Brave Women; Manchester's Radical Women 1819-1918 was published in October 2012.
Friday 17th-Sunday 19th May
Levenshulme Beer Festival
17 – 19 May
Klondyke Club
Levenshulme
£2 entry
Saturday 18th May
The making of a protest album (in 5 easy steps)
Enjoy this special performance from Quiet Loner, playing songs from his protest album 'Greedy Magicians'
18 May 2013

Time 15:00 – 17:00

Duration 2 hours

Cost Free. Donations to the museum gratefully received

Britain has a long and proud history of protest music, but today few mainstream artists are making protest music.  In 2012 singer-songwriter Quiet Loner set out to make a protest album.  The album Greedy Magicians has gone on to gather critical acclaim and been endorsed by Billy Bragg who called it ' a powerful rallying call'.

In this special performance Quiet Loner will play songs from the album and tell the story of how he made a contemporary protest album – how it was recorded over a single evening in a Salford church, what events inspired the songs and how the artwork was created using 19th century machines.

' a superb album evoking an authentic spirit of English folk' – Penny Black music

' a strong album about standing up and being counted' – Fatea magazine

' an anthem for resistance' – 10/10 Americana UK

Suitable for over 12s to adults.

Booking Requirements: Booking advised, please contact 0161 838 9190 or info@phm.org.uk
Monday 20th May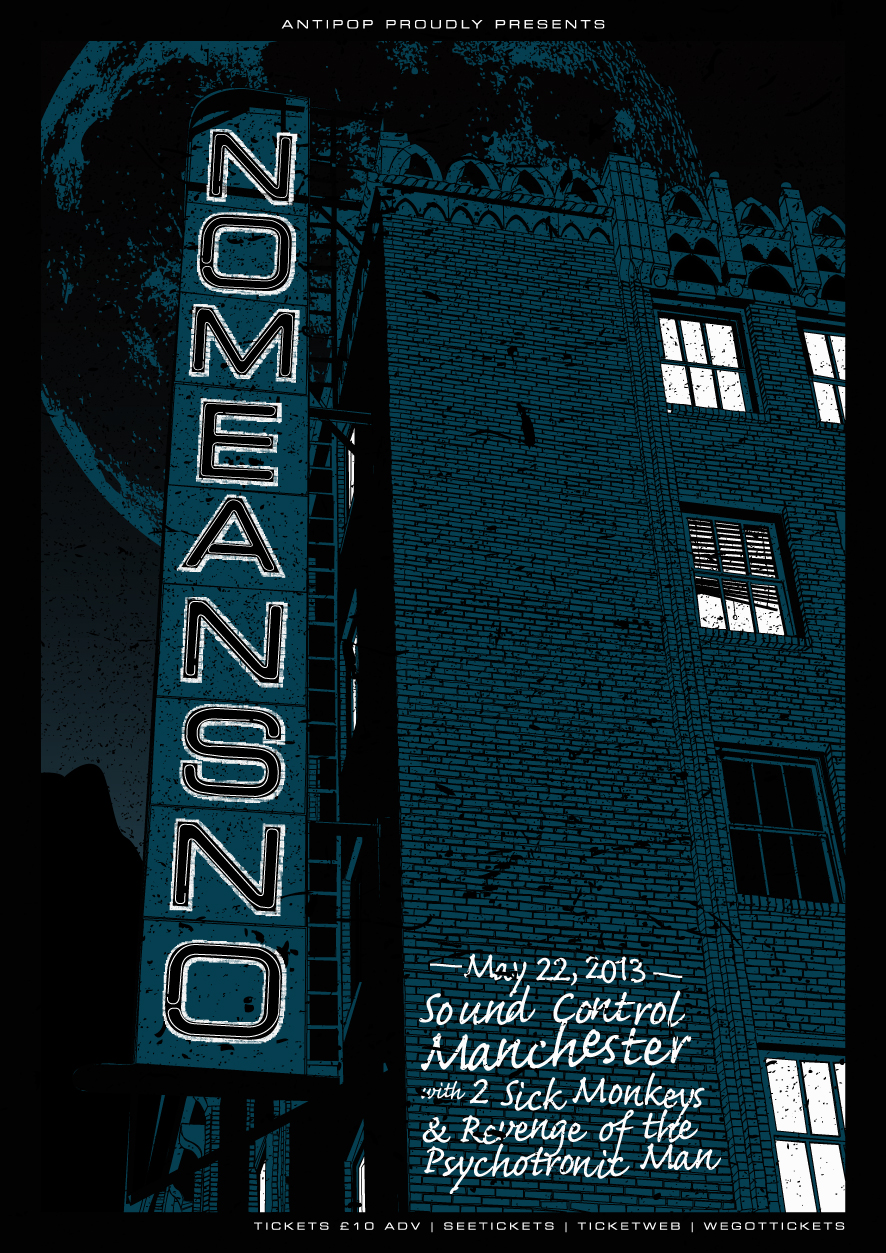 Friday 24th May
Friday 24th May, Saturday 25th May and Sunday 26th May (Bank Holiday Weekend)
Monday 3rd June
Thursday 13th June
Chris Butler at Thirsty Scholar
Saturday 22nd June
Sat 22nd June 2013
LIVESTOCK JIHAD, ROUGHNECK RIOT, DEAD SUBVERTS, CAPTAIN HOTKNIVES, BLACK STAR DUB COLLECTIVE, BUFF, WADEYE, HOLIDAY, THE MOODS, BLACK LIGHT MUTANTS, RESERVOIR COOTS
Antwerp Mansion
Saturday 13th July
Saturday 23rd November
Manchester & Salford Anarchist Bookfair
Finally:
Great list of punk gigs in Manchester at this new website: http://www.punkgigsmanchester.co.uk Add your gigs there.
Also check out http://www.punx.co.uk for a list of national punk gigs
Any what's ons?
Email